After winning his 23rd Grand Slam title, Novak Djokovic created history and became a sensation across the world. He beat Casper Ruud in the French Open in straight sets 7-6 (1), 6-3, 7-5 and won his third Roland Garros title. With this win, the 36-year-old surpassed Rafel Nadel to become the most successful male tennis player in history.
Post his winning, he got the attention of internet users after getting support from controversial personality Andrew Tate's brother Tristan Tate on the Covid-19 vaccine. Both are not supportive of the COVID vaccine and show their rejection on social media from time to time.
During the height of the COVID pandemic, Novak refused to take the COVID-19 vaccine. Consequently, he was banned from many tournaments for refusing the vaccine. In context, earlier he said " I understand that not being vaccinated today, I am unable to travel to most of the tournaments at the moment. Yes, that is the price that I'm willing to pay."
He further said that "Because the principles of decision-making on my body are more important than any title or anything else."
The story of the vaccine came to the surface when author Jeffrey A Tucker shared his opinion of Novak's vaccination status. He wrote, "Just imagine how great he would be if he had gotten vaccinated."
Tristan defended the tennis player and said "He'd be "The Late Great" Novak Djokovic."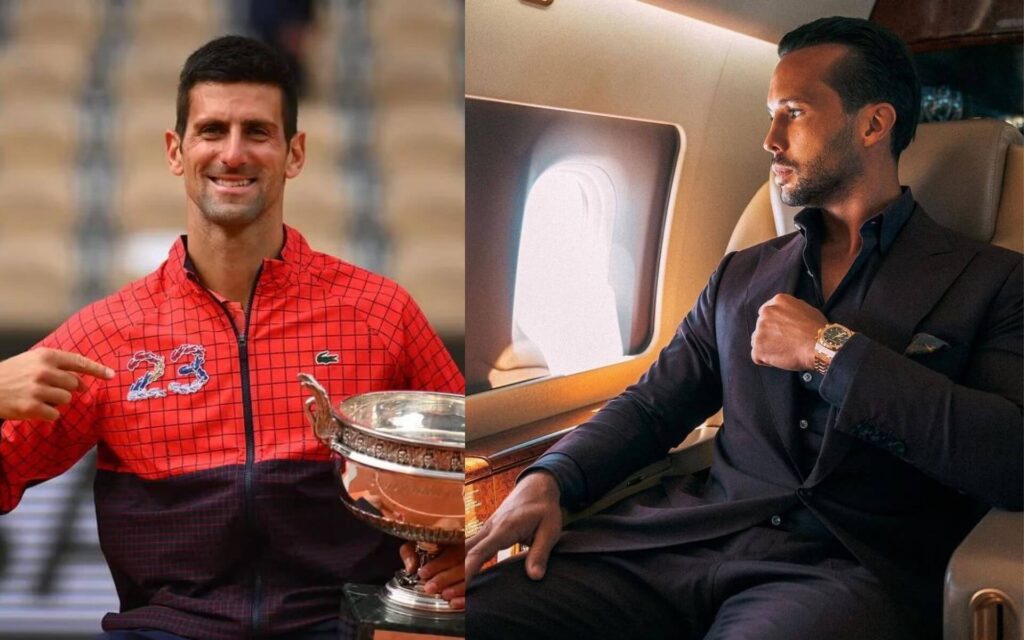 Andrew Tate and Tristan Tate Refused To COVID-19 Vaccines
Earlier both Tate's brothers refused to take the COVID-19 vaccine. Being very active on social media, they have frequently discussed the negative consequences of vaccination. That's the reason Tristan backs the Grand Slam winner for refusing vaccines. For him, it is hard to predict the changes the vaccine could bring to a body.
Previously, Tristan also supported well-known Hollywood actor Jamie Foxx when he was hospitalized while filming with Cameron Diaz. Several reports claimed that he has blood clots, generated by the COVID-19 vaccination, which made him paralyzed and blind for a particular time.
Tristan took to Twitter and expressed his support by sending his wishes and prayers for the actor. He wrote, "I'll be praying for @iamjamiefoxx and his family tonight."
However, Foxx's representative called the claims "completely inaccurate" in a statement to NBC News.
Latest Update On Andrew Tate's Vaccine Status
After showing negative remarks on the COVID vaccine, the former kickboxer changed his mind and is ready to take it. He reacted on Twitter and wrote, "I've been thinking long and hard and it's time to admit I was wrong."
He further wrote that "I thought I'd be totally fine. But that clearly isn't the case and in light of the insurmountable evidence and real world experience, I am forced to change my mind. I want to get the covid vaccine."
However, Tristan doesn't change his mind about the vaccine and is still not ready to take it.
While scrolling through his fan's reactions, the picture of his vaccine status got more complex. Some of his followers took the tweet as sarcasm whereas some concluded that Tate has sold out to big Pharma companies.
Former UFC/MMA fighter Jake Shields reacted to Andrew Tate's tweet and said "This is the first time I've ever been worried about your mental health." He further reacted to a user tweet and wrote that "I'm aware because no way Andrew would ever be."
Like Tate's brother, Shields also does not favor taking COVID-19 vaccinations.