Coming from a professional kickboxing background, Andrew Tate and Tristan Tate pay much attention to health and physical activities. They also inspire their followers to focus on physical and mental health. Both Tate brothers are highly devoted to their fitness and fascinated by people shown similar interest.
Known for his straightforward opinions on social media platforms, Tristan Tate supports people who work on their fitness. That's the reason that Tristan Tate took to Twitter and admired popular YouTuber MrBeast for his progress in physical fitness.
James Stephen Donaldson or MrBeast is a renowned YouTuber and has a huge following. He has 160 Million subscribers on YouTube, which reflects his popularity over social media. After showing his physical fitness progress, he captured the attention of many including Andrew's Brother.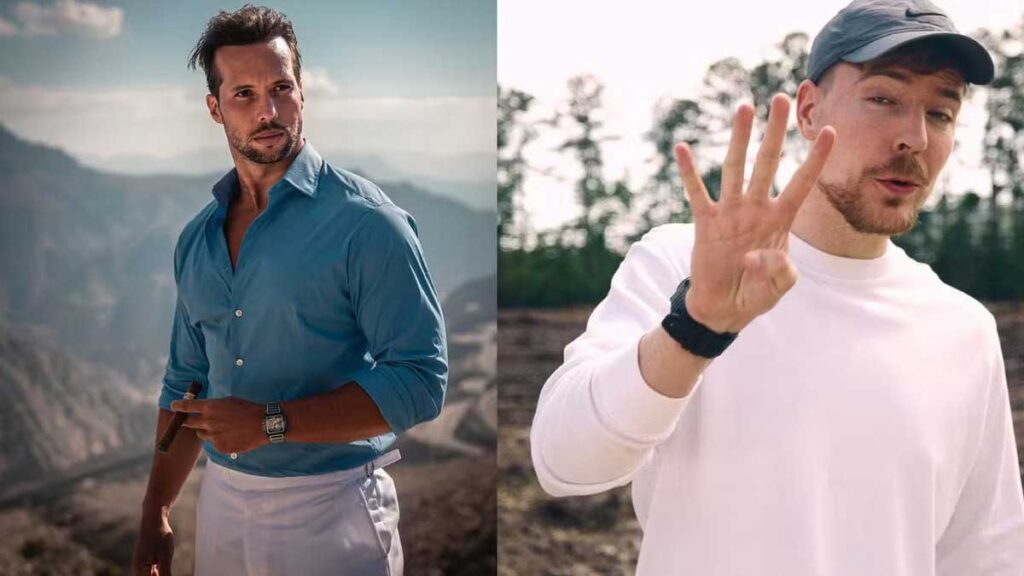 "Setting A Good Example," Said Tristan Tate On MrBeast Fitness
Recently, MrBeast shared his fitness update on his official Twitter account and said that he has been working out for ten months. He witnessed considerable changes in his body.
He mentioned the necessity of required efforts to maintain a good physique and appreciated people, who work on their physical fitness. He wrote "I've been lifting religiously for 10 months (with trainer, 12k steps a day, good sleep, good diet) and I've gone from obese to just lean. I have a new found respect for jacked people, this takes forever lol."
Tristan Tate appreciated the accomplishment of MrBeast and wrote motivational words to him. He said "This is awesome news. Men with this level of fame setting a good example! Congratulations @MrBeast. Boom." It is quite strange for many fans to get some kind words from Tate's brother.
However, in the year 2022, MrBeast described his fascination with Andrew Tate during an interview on the Full Send Podcast. He also broke down Tate's marketing techniques and stated "Now's the best time to do podcasts… Clips are reuploaded for months on months, they get so many views outside of the actual podcast… I would call it 'The Tate Model'… I think if you're an influencer, you should go on a couple of dozen podcasts, clip all the best parts and just put it in a folder and give it to your fans. Like literally promote you for free."
Fans Reacted and Found The Interaction Best Over Social Media
The interaction between Tristan and MrBeast has snatched many fans' attention and they started commenting about the interaction. Reacting to the particular comment, one of the fans wrote "We need a collab with you guys and Mr beast" while another fan tweeted "Tristan out there boosting the motivation and confidence of ppl." A fan also wrote "one of the best internet interactions ever."
Tristan seems to be part of people, engaged in physical activities. Like MrBeast, he praised Jake Paul and Mark Zuckerberg when they accomplished their combat sports. He passed his appreciation when Jake Paul defeated well-known opponents in Boxing and Mark Zuckerberg in winning certain jiu-jitsu events.
Tate's brother is fascinated with physical fitness and encourages people to maintain a good fitness regimen through their tweets.