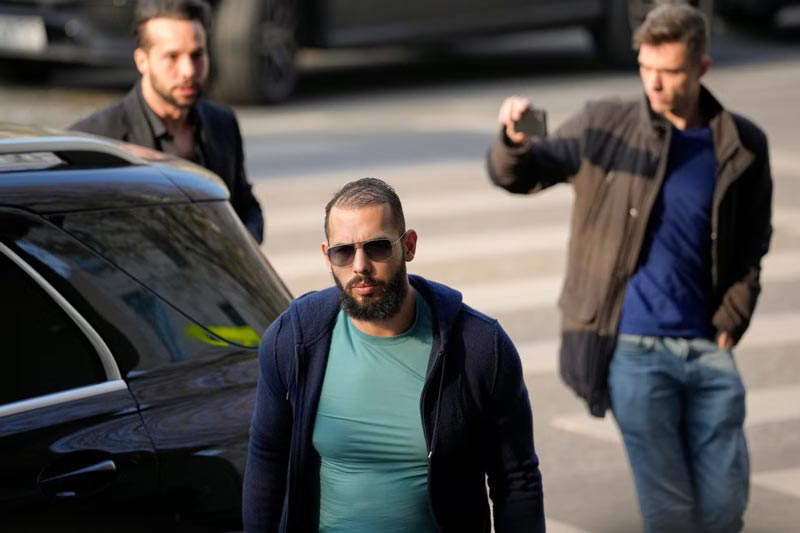 Former kickboxer Andrew Tate's brother Tristan Tate has been charged with inciting violence by Romanian prosecutors. The DIICOT, the Romanian anti-organized crime agency, has investigated the case of Tate's brother for involvement in human trafficking, and organized crime along with two Romanian females.
The agency notified Tristan Tate about the additional charge of inciting others to violence on Monday. Against the charges, one of the defense lawyers of Tate's brother told the news agency that a statement will be shared soon.
Tristan Tate shared his reaction over the new charges through the social media platform Twitter and said that "They charged me yesterday with "inciting violence towards others." I thought I was a Human Trafficker? Where's the evidence for that? Oh yeah, that's right. They don't have any so they make something else up.
He also wrote that "Don't show the world WHY I'm guilty of any of these things, just make up new crimes and don't explain any of them. What's next? Bank robbery? Fraud?"
Along with his brother Andrew Tate, Tristan is under house arrest and facing the allegation. Prosecutors have filed charges against the four victims and the case is under investigation. Under Romanian legislation, all victims are under house arrest after they have won an appeal against their detention.
Andrew Tate Raised Concerns On Being Poisoned By The Matrix
The social media influencer Andrew Tate claimed that he was punished for encouraging "young men to work hard." He also said that his accounts were suspended from social media platforms and sent to prisons because he told young men to raise questions and work hard.
Andrew has said a lot about The Matrix and shared his perspective that everybody lives in a simulation. He used the term "the Matrix" to acknowledge the power of the media, large organizations, and politics. In the context of the reel world, "The Matrix" is a world of different types of people who use their mental power to fight against the odds.
On opening up about the views on The Matrix, he shared a video clip on his Twitter account and claimed that he has been poisoned. Over the clip, he received huge attention and reactions. He also posted his picture on Twitter showing swelling and skin redness on his face as proof of his statement.
He wrote "Face swollen, blood pressure is through the roof. Skin is on fire. Hard to breathe. Some sort of severe reaction or poison." He said that he is not allergic to anything. He never experienced this kind of reaction ever before.
According to the latest updates on the Tate brother's case, both Andrew Tate and Tristan Tate are facing allegations of human trafficking. Along with two Romanian women, they were arrested On December 29, 2022. Against Andrew's appeal for bail, Romanian authorities have rejected the appeal and extended his house arrest period.
The Romanian agency DIICOT has passed the statement and explained that the case is registered under "acts of physical violence and mental coercion" and identified six victims in this human trafficking case. The agency also said the victims were lured with pretenses of love and intimated later. They also objectified Tate's brother's engagement in pornographic acts and formed a crime group for financial gain.
Furthermore, Andrew Tate's legal situation can get worse as a legal firm in the UK is ready to launch a civil action against him on behalf of three alleged victims of physical assaults. For that, the victims are crowdfunding in the UK and searching for more victims to make a strong case against Andrew Tate.