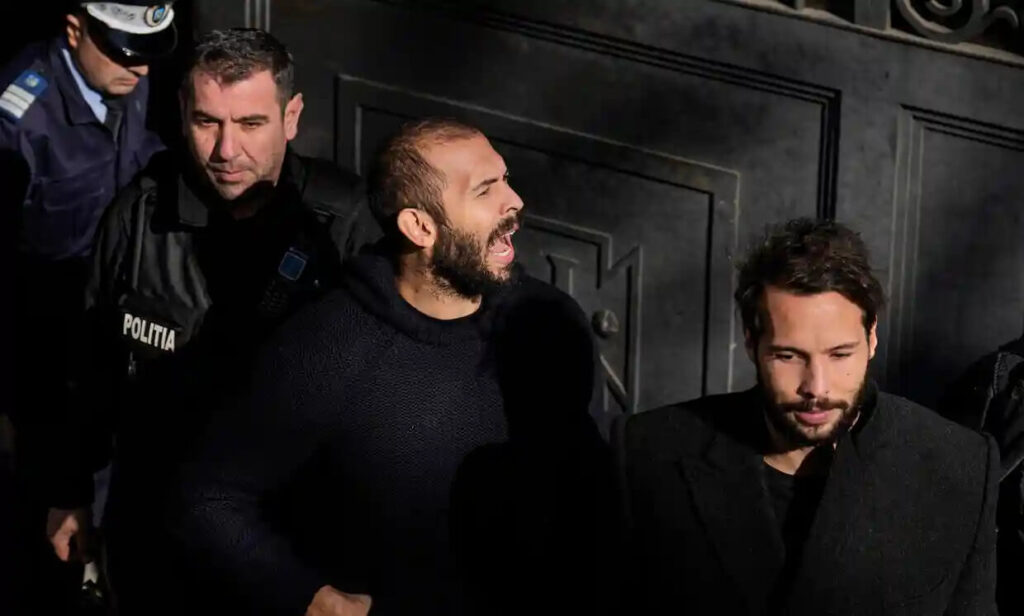 After spending three months behind the bars, former kickboxer Andrew Tate and his brother Tristan Tate were released from Jail. The decision came after the Bucharest Court of Appeal accepted Tate's appeal against the extension of arrest for the fourth time for the next 30 days.
He got emotional after his release after seeing the crowd outside the prison. "I am a little bit emotional. I've been in one room since last year so it's a little bit emotional," said Tate. He also expressed his beliefs in God and the truth that will eventually come out soon.
Andrew and his brother along with two Romanian women have been arrested for the charges of human trafficking, and organized crime. From December 2022, they were kept behind bars despite various strong appeals.
The 36-year-old British-US citizen was happy and said that the Judges have made the right decision. He also said that "I respect what they've done for me and they will be vindicated in their decision because I'm an innocent man and I can't wait to prove it."
They are free from jail but will remain under house arrest until April 29, said a spokesperson of Romania's anti-organized crime agency, DIICOT.
Andrew Tate Updates his Release On Twitter
A controversial social media influencer has shared the information of his release on Twitter and uploaded a video. He wrote that he has been in a 24-hour lockdown and mentioned the influence of habits that take time to die. His followers have shown positive reactions to his tweets and highlight the date as the release date of movie the matrix in the USA in 1999.
He expressed his respect for the Romanian government and also stated that
"I truly believe that justice will be served in the end. There's a zero percent chance of me being found guilty of something I have not done. I maintain my absolute innocence and I think most people understand this and I look forward to being home."
The active social media user has relieved his initial plans once released from custody. He wrote that "When I was in jail I did 7,417 pushups. I want to get to 10,000 before the end of the week."
Meanwhile, the investigation will be continued by the Romanian authorities. Both brothers are not allowed to leave the house without government officials' approval. Their lawyer Eugen Vidineac said that Tate's brothers cannot talk with any potential witness during a media conversation.
Andrew has more than 5 million followers on Twitter and was active on it even when he was in jail. Due to his bold remarks and perspectives, especially on feminism, Andrew Tate's statements create conservatories.
However, mixed reactions have been seen on Twitter after Andrew's release. Mostly, people are curious to know about his luxurious cars and remaining assets.
He has been Charged with Human trafficking & other Offenses
On December 29, Andrew Tate has been arrested under the allegation of human trafficking along with his brother Tristan Tate and 2 Romanian women Naghel Georgiana Manuela and Radu Alexandra Luan. Currently, all four suspects are released from jail but will remain under house arrest.
In a statement, the investigation agency DIICOT talked about the six victims of this case. They were subjected to "acts of physical violence and mental coercion." And, also mentioned that they were lured in the name of love and intimated later. Despite all allegations, Andrew said the case was an example of political conspiracy.
The investigation agency needs more time to file the final reports. Andrew's followers have to wait to know the reality or conspiracy behind the case.