Former kickboxer Andrew Tate's interview with BBC is still creating controversy after he described it as a "sucker puncher" in his tweet. Once the interview got available to the public, a women's group also raged at him for saying that one of his victims is "imaginary" and created by the media.
King of toxic masculinity is arrested in Romania on charges of organized crime and human trafficking along with his brother Tristan Tate and two Romanian women. He has thrown all his anger on Twitter about the BBC treatment during the interview. As per him, BBC promised to provide soft treatment for the interview but he had to face aggressive questions during the conversation.
He said "They then sat down, threw all of this away and attacked me instantly, an ambush," the internet celebrity wailed in an extended tweet, entering his third day of online whining. "A hit job attempt. They attempted to sucker punch me. They failed."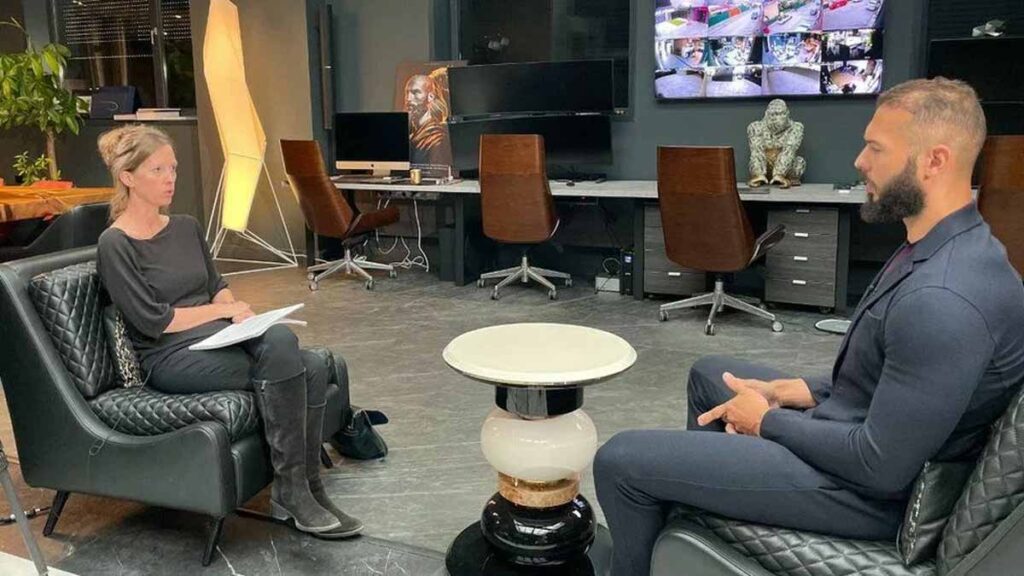 Further, he released a clip of his interview and posted it on his Twitter account under the heading: "The mainstream media which vilify me, beg me for interviews under the guise of 'balanced' journalism. The Matrix is desperate. These are the full interviews they'll never show you."
He also mentioned that the BBC sent a list of questions to him before the interview but asked none of them. They promised him to discuss issues on the Romanian justice system, the situation inside the Romanian jail, and unfair detention for a man who hasn't been found guilty. As per him, they wanted to show the other side of Andrew Tate's personality.
BBC Remarks That Influencer Challeged Allegations
As per BBC, social media personality Andrew denied all the allegations put against him, including human trafficking, and exploitation of women for which he is under investigation by Romanian prosecutors. When the interviewer Lucy Williamson raised concern about his negative influence on society and the young generation, he claimed he was a "Force of God." Also, he mentioned that he was "acting under the instruction of God to do good things."
After being released from police custody to house arrest, this was the first television interview Tate had with a big broadcaster. BBC also stated that he was ready to interview with no set conditions.
While questioning Sophie's testimony, Tate said that "I'm doing you the favour as legacy media, giving you relevance, by speaking to you. And I'm telling you now, this Sophie, which the BBC has invented, who has no face. Nobody knows who she is. I know."
The interview lasted approximately 40 minutes in which he refused all the allegations and told the interviewer to "do some research" as she was "saying silly things."
BBC has studied the case of Tate's brother thoroughly since the end of last year when both brothers were arrested and taken into custody. They also spoke to witnesses, neighbors, former employees, associates, and everyone involved in the investigation to draw a clear image.
Leading Women Activists Outraged at Tate's Remarks During the Interview
While interviewing with BBC, Tate remarked that the case is utterly fabricated and one of his accusers is media fiction. According to The Sun report, many leading activists for women and abuse victims outraged their anger at this statement.
The activists replicated Tate's efforts to degrade the women's image through his internet posts. While sharing more enhanced views, the director of women's organization Right to Equality Dr Charlotte Proudman said in an interview that "I am deeply concerned about the impact of this on victims more broadly who may feel that platforming an extreme misogynist accused of violent acts towards women is a slap in the face for them."
The Deputy Director of the End Violence Against Women Coalition Deniz Uğur also argued and stated that "The tactics we saw being used in this interview are nothing new and just the latest in a long line of men using their profile, status or power to dismiss victims and trivialize violence against women."
Further, this is the sixth and the last month of Tate's brother under judicial control of this case investigation.