Member of the LSU Tigers women's gymnastics team, Olivia Dunne is a renowned American gymnast and social media personality. In a recent podcast, she opened up about her encounter with social media influencer Andrew Tate. She revealed that she had received a message from him via Instagram but she chose to not reply as she is not a fan of his content.
In August 2022, 20-year-old Dunne already exposed former kickboxer Tate when he sent the message but she shared more details with the Nelk Boys. She said that he is the most famous celebrity to slide into her DMs when he was in his peak of fame.
Olivia Dunne says that Tate sent the message "Come to Europe, dear" followed by a rose emoji. And, she quoted her experience in the following words:
"When I saw Andrew Tate's message, I couldn't believe it. I thought 'Why is he messaging me right now?' I had a sense of what his intentions were."
When she was asked if she was a fan of Andrew Tate, she bluntly said "No."
The popularity of Dunne has remarkably grown when she was selected for the Sports Illustrated Swimsuit issue in May. She has a huge fan base on social media with 7.6 million followers on TikTok and more than 4 million followers on Instagram.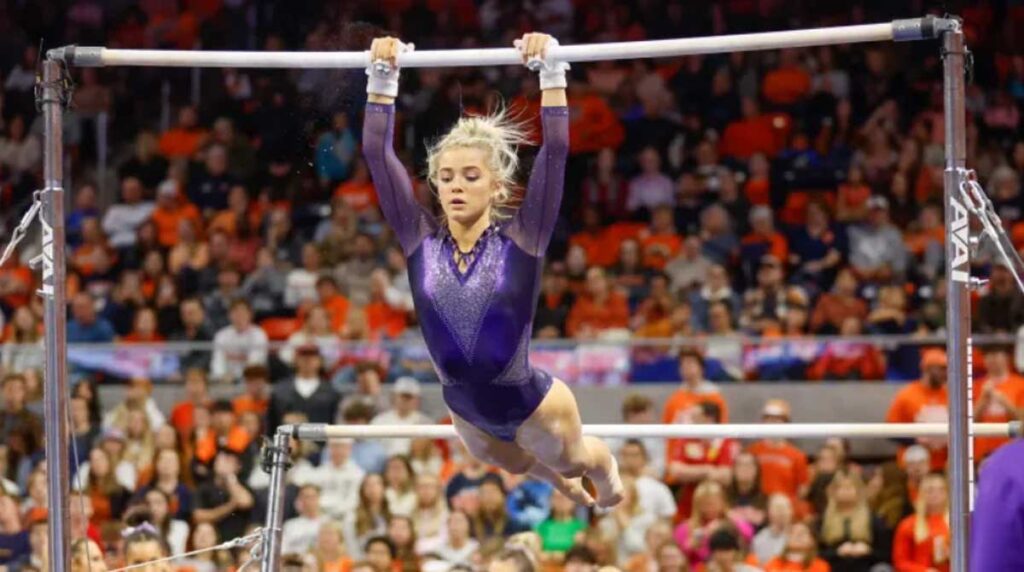 Who Is Olivia Dunne? How Is It Related to Andrew Tate?
In the FULLSEND Podcast, she mentioned her interaction with Andrew Tate over a social media platform. Well, she is a famous gymnast and super active on social media. She started her gymnastics training in 2005 at ENA Gymnastics. In 2020, she joined the LSU Tigers gymnastics team, representing Louisiana State University in NCAA Division I women's gymnastics.
As of February 2023, she is the most-followed NCAA athlete on social media. She joined the social media platform TikTok in 2020 and posted videos of her gymnastics at the start. Because of her huge fan base on digital platforms, Dunne has attracted several endorsement deals with Vuori, Grubhub, American Eagle Outfitters, and Body Armor.
According to a report, she was the highest-valued women's college athlete as of May 2023, having an estimated NIL valuation of $3.3 million.
Both Dunne and Tate have sports backgrounds, but they are not related to each other. Their names belong to two different worlds with an age gap of 16 years. Meanwhile, Andrew is facing charges under the jurisdiction of the Romanian Government.
What Thoughts Other Athletes Have For Andrew Tate?
Having a bold opinion and thought process for different topics, Andrew easily grabs the attention of the media world. While Dunne has nothing to do with him, other athletes have different viewpoints on Tate and admire his actions, especially when it comes to MMA fighters.
Reigning bantamweight champion Aljamain Sterling has shared a photo with himself and Andrew Tate and Tate's brother Tristan with the caption "Top G's never die! Good chopping it up with you fellas." For that, he had to face negative vibes on social media. He justified his point and shared his opinion on the same.
He wrote in a tweet "I think people are really crazy and I think that's the problem with the world today. We are so quick to condemn people instead of actually giving people a chance to reason and analyze what people are saying versus assuming and just making a judgment and being completely wrong. That's just the world that we live in today. I don't think it's going to change anytime soon. With that said, hopefully, T.J. Dillashaw moves the needle this weekend at UFC 280."
Apart from Sterling, UFC welterweight champion Leon Edwards and bantamweight contender Sean O'Malley also shared photos of themselves with the Tate brothers.