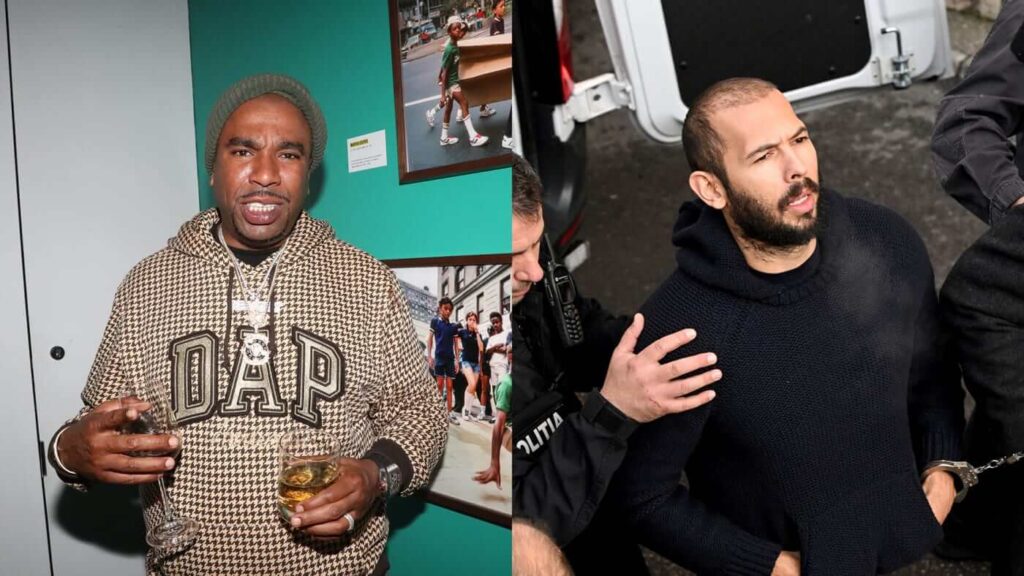 Rapper and podcaster N.O.R.E. has raised a question on the social media platform Twitter about having a conversation with former kickboxer Andrew Tate. Users have expressed mixed reactions over the question, "Do we want Andrew Tate on drink champs?" Tweeted on late March 31, N.O.R.E. asked fans to share their reactions on inviting controversial social media influencer Andrew Tate on the show "Drink Champs."
The flood of tweets on the questions revealed fans' reactions and strong opposition to the idea. As per the show followers, the show is dedicated to Hip-Hop legends, and Andrew doesn't fall under the same category. As an active social media user, he gained attention for his outspoken views on various topics, including masculinity, politics, and relationships.
Recently, Andrew and his brother Tristan Tate have been released from jail along with two women, Georgiana Naghel and Luana Radu. They are charged with human trafficking and organized crimes. Though they are free from prison, all four victims are under house arrest until April 29. Also, the pre-trial detention of the Tate Brothers has ended.
N.O.R.E. Replied, "I was Joking"…
Holding a history of inviting controversial guests (Tekashi 6ix9ine and Akademiks) on his show, the rapper and broadcaster has tried to continue his style by inviting the 36-year-old entrepreneur. However, after having the most heated comment by a follower, "What does he even contribute to hip-hop or even people? #toxic #misogyny," he replied that he was joking.
Another follower has thrown his anger by pointing out the ridiculousness of this idea and tweeted that "Nore asking if he should have Andrew Tate on the pod. N-gga for what? Drink Champs was supposed to be a platform to celebrate Rap. Why would you have Andrew Tate on there?"
This is not the first time that N.O.R.E. has brought earthquakes on social media by sharing the platform with debatable guests. During a previous episode, both N.O.R.E. and D.J. E.F.N. addressed Will Smith as a bitch. For that, Chris Rock accused them during his Netflix special. Later they clarified their remarks in Joe Budden's interview and cleared the air.
Besides that, N.O.R.E. was also accused of baiting The Isley Brothers into defaming Beyoncé during a discussion about her loyal fan base. He said, "It's like the mafia — we don't discuss it. We just follow the rules."
Besides, the show Drink Champs is run by American hip-hop and reggaeton recording artist N.O.R.E. and record label executive and D.J. E.F.N.
Is Andrew Coming to the Show "Drink Champs"?
In the midst of unfavorable comments over Twitter, N.O.R.E. has dropped the idea of inviting the British-US citizen on his show. He replied as he was joking and it was his bad to unbox this idea. Furthermore, many followers' reactions were unsupporting of the idea as they were not ready to share the platform with such personalities who are facing accusations of human trafficking. Some treated the idea as the joke of April Fool's day.
Andrew Tate is facing charges of human trafficking and forming an organized crime group along with his brother Tristan Tate and 2 Romanian women. The police arrested all four victims on December 29, 2022, and seized Tate's assets. The case is under investigation, and the anti-crime agency D.I.I.C.O.T. is thoroughly examining the victims in order to bring the truth to the surface. Recently, the Bucharest Court of Appeal overturned the lower court's decision and kept the Tate brothers on house arrest until April 29.